Home
GTY Tools
Auto Repair Tools
41Pcs Auto Trim & Molding Removal Tool Set , Clip Pliers Fastener Remover Pry Tool Set with Storage Bag for Door Trim Molding Dash Panel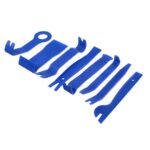 41Pcs Auto Trim & Molding Removal Tool Set , Clip Pliers Fastener Remover Pry Tool Set with Storage Bag for Door Trim Molding Dash Panel
【41Pcs trim removal tools set】 Panel Trim tool Kits works great for Automotive, Marine, Furniture or Aircraft Trim removal and installation, including Door Panels, Moldings, Window Trims, Clips, Fasteners, Emblems, Panels, Radios, etc.

【Durable Quality】Made of durable Nylon and stainless steel which won't break or bend easily. And it's not sharp won't make any scratches to your car during the whole modification.

【Good Choice】Ergonomic design and super lightweight, easy handhold that effectively effort saving for various interior and exterior car trimming in the shortest time. A perfect choice for car audio lovers.

【Foldable Bag】Come with a durable and foldable Zipper storage bag, It folds up nicely and keep tools orderly, easy to carry and use.
Description
Package Includes:
1PACK Adhesive cable clips(20pcs),
2PCS Clip release tools,
1PC Trim Clip Removal Pliers 
1PC Stainless Steel Stone Remover,
2PCS Upholstery Fastener Remover,
2PCS U-shaped removal tool,
4PCS Precision Hook Pick,
6PCS Stereo removal tools,
11PCS Trim Removal Tools,
11PCS Stainless Steel Auto Terminal Removal Key Tool.