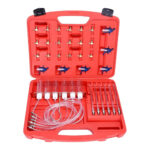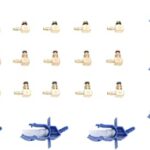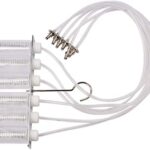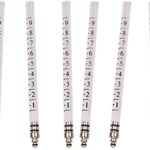 Diesel Injector Flow Test Kit
◇ Multi-Function Common Rail Kit — This 6 cylinder common rail kit is designed to measure the amount of the fuel that every injector returns to the deposit tank rapidly and effectively. Suitable for a range of vehicle injectors

◇ Heavy Duty Construction — The common rail adapters made of high density copper + plastic, high rigidity and strength, premium quality guarantee, 100% Money Refund/ New Replacement, 100% Test Before Shipping, and within 24h online answer

◇ Precise Scale Tool — Precise scale tools, makes the fuel flow diagnostic work accurately. the purpose of this instrument is to measure rapidly and effectively the amount of fuel that every injector returns to the deposit tank;, so that you will know if any injector is damaged

◇ Super Function with 6 Injectors — Possibility of simultaneous measurement of up to 6 injectors. Fit for all injector types: Adaptors for Bosch / Siemens / Denso / Delphi injectors

◇ Quick & Convenient Use — All the tools are well organized in a blow molded case for easy transportation, simple storage, and quick identification. These aided small design will greatly improve the accuracy and efficiency of actual work
Description
Instructions:
1. Remove the clip of the return flow line at the injector.
2. Separate, by gently pulling, the return flow line including plastic adapter from the injector.
3. Select the appropriate adapter. The pre-assembled on the hose adapter are suitable for Bosch injectors.
4. Mount the hook of the Measuring cup aluminium holder e.g. on engine hood and connect the tubes or the measuring cylinder on the injectors, against falling out you must mount original clip.
5. To be obtain a meaningful result should at every injector connect a measuring cylinder or a measuring cup, for example, at 6 cylinder engines should also 6 measuring cylinder or measuring cups be connected.
6. Start the engine and rotate at idle speed.
7. See at the measuring cylinder or measuring cup, as soon as the engine is running they be filled with fuel from the common rail system.
8. Turn off the engine if a significant difference of quantity or the maximum quantity is reached.
9. The difference in the quantity of fuel between the cylinders gives you information about the condition of the injectors.
10. The injector is defective, if one of the measuring cylinder or measuring cup shows a significantly higher fuel quantity (in comparison to the other)
11. If there is only a very small difference of quantity, a diagnosis can be made only with the manufacturer's instructions.
Specifications:
Material: Copper, Plastic
Package included:
18 * Copper Injector Adapters
6 * Plastic Injector Adapters
6 * Thick Measuring Cup with Soft Pipe
6 * Slender Measuring Cup
Additional information
| | |
| --- | --- |
| Weight | 9 kg |
| Dimensions | 41.5 × 32 × 42 cm |
| Brand | GTY TOOLS |
| material | Copper, Plastic |