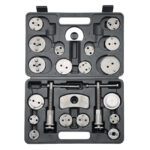 22PCS Universal Caliper Wind Back Kit
IDEAL FOR MECHANICS: 22pcs pad and caliper wind back set to replace brake pads and rotate pistons back into the caliper

UNIVERSAL DESIGN: includes 18 adapters(including #10 VW) fitting hundreds of vehicle makes and models including American, European and Japanese. See Product Description below for some of the many compatible vehicles.

IM INCLUDED: Each kit includes detailed use instructions with an illustrated parts diagram.

DURABLE: Designed for repeated use with high quality materials.

Blow molded case for easy storage.
Description
Package includes:
18x adapter for popular car brands
Adapter # 0: Compatible for General Motors, Cadillac Seville, Eldorado
Adapter # 1 Retaining plate
Adapter # 2 :Compatible for Citroen XM, Xantia and other
Adapter # 3 :Compatible for Alfa Romeo, Audi, Austin, BMW 318 iS, 320 i, 325 TD, 518 i, 525 i, 740 i, 850 ci, M5, Ford Fiesta, Honda Concerto, Jaguar XJ6, XJ40, Mercedes-Benz 190 , 200 , 300 , 420 , 560 , Mitsubishi Colt, Stanza, Sunny, Range Rover, Toyota Camry, VW Passat, Golf GTI, Volvo
Adapter # 4 :Compatible for Alfa Romeo 164 2.0 , Fiat, Ford Telstar, Laser, General Motors Saturn, Grand Prix, Lumina, Honda Prelude, CRX, Mazda, Saab 9000
Adapter # 5:Compatible for with 3/8 "square drive
Adapter # 6:Compatible for VW Golf 4
Adapter # 7:Compatible for Audi 80 and 90, V8 and 100 , Coupe, Ford Sierra ABS, Granada and Scorpio from 1985 , Honda Prelude, Blue Bird Primera 2.0 i, LS, GS, GSX, Rover 8000 , Saab 9000 , Z Peugeot 405 1 .9Gi, Gri, Sri, GTXI, MI16, 605 2.0 Sri, Toyota Celica, Corolla GT, MR2, VW Golf and Passat Cl, Gl, GT, GT 16V, 16V Corrado, GTX 16V, Jetta Synchro , Jetta, GTI 16V
Adapter # 8:Compatible for GENERAL MOTORS
Adapter # 9:Compatible for General Motors, Cadillac Seville, Eldorado
Adapter # 10 :Compatible for VW
Adapter # A :Compatible for Renault R21, Laguna
Adapter # E :Compatible for Maxima
Adapter # F :Compatible for Opel Corsa, Astra, Zafira and Vectra
Adapter # K:Compatible for Citroen C3, C5
Adapter # K1 :Compatible for Citroen
Adapter # K2 :Compatible for Citroen
Adapter # M :Compatible for Ford
Adapter # N :Compatible for Renault, Saab and Honda
Adapter # O Retaining plate
Additional information
| | |
| --- | --- |
| Weight | 14 kg |
| Dimensions | 33 × 30 × 23 cm |
| Brand | GTY TOOLS |
| material | Carbon Steel |